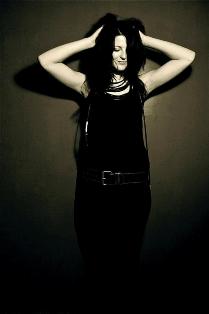 Sinah
SINAH (pronounced XENA) is a warrior of another kind. Originally from Berlin, Germany, Sinah discovered her love for music early on by learning the piano at the age of 8. She started using the piano as a composing tool rather than a sight reading instrument and by the age of 13 was playing in a school jazz band. Two years later she got introduced to the bass guitar, which would keep her attention until today.
Harder
© Sinah Blohberger 2011
Sinah's bass teacher introduced her to Logic which provided a foundation from which to produce her music. Whilst playing in bands, Sinah decided to move to New York for one year at the age of 18 to expand her horizon musically.
After enduring the struggle that comes along with a big city such as New York, she moved to London, where she lives until this day. Performing at festivals such as Glastonbury, SXSW and touring in Europe and America with different bands, she has finally decided that the time has come to release her own music which has been captured and kept in her studio until now.
Sinah is currently collaborating with more ambitious artists and producers for her first record. Sinah has recently been picked up by Brownswood Management.
Keep your ears to the floor for SINAH in 2012.
More:
To learn more about Agenda Red artists SUBSCRIBE in the box below
Photo Credit: © Sinah Blohberger 2011