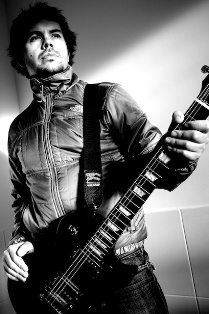 Rob Lorenzo
With rhythms pounding like a universal heartbeat, riffs wide enough to bridge galaxies and grooves big enough to give a planetary punch, Rob's sound is described as "..hardcore punk assertiveness with a heavy dose of British rock sludge.."
Described as "Audioslave, Soundgarden and Black Sabbath colliding in a Mosh Pit of Guitar Shredding" and "head-pounding classic metal rock fusion", Rob's desire to make noise began in 1980.
It was the tribal rhythms of Adam and the Ants "Kings of The Wild Frontier" that began Rob's fascination with vinyl and art inspired noise. Rob was encouraged to learn Piano formally at the age of six having attempted since the age of four. "It's great to learn the rules then break them." On a mission to get louder, Rob sold his Alto Saxophone at age of 13 to "buy a Marshall stack" and continued to shake foundations from there on.
The Getaway (instrumental)
(c) Agenda Red 2011
From 1993 to 1995 Rob wrote and recorded with industrial grinders "Sub Society" and sharpened his skills playing in Wantage punk band, "Intoxicated".
In 1994 Rob had begun to write, perform and record with Oxford's classic rock act, "Earth Machine", which had evolved out of the ashes of doom metal band Sevenchurch. Earth Machine were often found rehearsing and performing in the backrooms of Cumnor Coldrooms shared with Oxford's globally successful acts,  Ride, Radiohead and Supergrass, to name drop but a few, and playing live for Radio 1's Sound City.
Around 1997/1998 Earth Machine split leaving chief lyricists, Paul "Ollie" Oliver and Rob (then "Bob" Lawrence) to form three-piece "Flume" with drummer Nick Townsend. Quickly releasing a single  "Sometime" b/w "On My Own" the three-piece were to then release a four-track EP "…with a view" working with Adam Whittaker, a sound engineer responsible for the Stereophonics demo that got them signed. Flume went on to record "Believe" released on a BURBS compilation album.
Believe
(c) Agenda Red 2011
In 2001 working with bass player, Joe Cross, Rob recorded a small number of experimental instrumental tracks with Flume drummer, Nick Townsend including a track "Cannonball" which became the basis for a track with Agent, Red a few years later.
Cannonball (instrumental)
(c) Agenda Red 2011
Taking a break to travel, write instrumental music and focus on technology, Rob reacquainted his thirst to play loud again by co-founding West Australian act, "Agent, Red" in March 2007 under the blistering blue dry climate of Perth.
Briefly visiting the UK in the summer of 2007, Rob teamed up with Modes of Transport mutli-instrumental musician and songwriter, Mark Nelson, to record two instrumental tracks under the banner of "MX=65".
She's a Socialite (instrumental)
She's a Socialite from Rob Lorenzo on Vimeo.
(c) Agenda Red 2011
MX=65 track, "The Getaway" – at the top of this page, secured a non-exlcusive music library publishing contract in the United States for Film and TV following several TAXI forward placements.
In 2008, sacrificing cars, houses, vegemite and the Australian sunshine, Agent, Red cashed in everything for a more permanent move to the Baltic chill of Berlin, Germany exposing themselves to greater resources and live opportunities having just recorded their sonically sizeable self-produced three-track debut EP, "Satan Drives a Pontiac".
Satan Drives a Pontiac
(c) Agenda Red 2011
After an intense two years and having recorded two new songs in Berlin with second vocalist, Tobias Pitts, the last "Agent, Red" gig was in Camden in May 2010 at the semi-finals of the Emergenza battle of the bands contest.
Spin Down
(c) Agenda Red 2011
Rob signed his second non-exclusive Music Library Publishing contract in 2012 producing music and sound for TV and Film in the United States and is currently writing new material for both solo and collaborative projects in 2013.