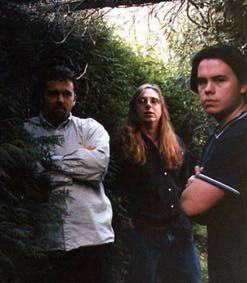 Flume
Easy
(c) Agenda Red 2011
Paul "Ollie" Oliver and Bob Lawrence formed three-piece "Flume" with drummer Nick Townsend in the depths of leafy Oxfordshire and Berkshire in 1998 quickly releasing a single "Sometime" b/w "On My Own" before hitting the local venues with their punchy, over-driven unapologetic British sounds.
The three-piece then released a four-track EP "…with a view" working with guest engineer Adam Whittaker and recording engineer Mike Turner of TOG studios in Benson, Oxfordshire. The EP featured four tracks:
Provide
Easy
Infinte
Bench
Provide
(c) Agenda Red 2011
Flume went on to record "Believe" released on a BURBS compilation album, this also became the hidden bonus track of the aforementined EP on later releases.
Believe
(c) Agenda Red 2011
More:
To learn more about Agenda Red artists SUBSCRIBE in the box below